Advisory Board
CREATE-NET
Purdue University
University of California at San Diego
Stanford University
University of Illinois
Max-Planck Institut für Informatik
Tohoku University
Brown University
University of Texas at Dallas
Princeton University
Columbia University
JGAA Ranking
According to a SCImago study the Cites per Doc. of JGAA is 0.846 in 2010. This index, which denotes the average number of citations per document in a two-year period, is computed using the same formula as that of the journal impact factor™ (Thomson Reuters).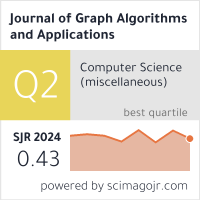 News
September 2012. The Managing Editor and the Editors-in-Chief of JGAA are pleased to announce the appointment of Prosenjit K. Bose to the Editorial Board of JGAA.
Just Accepted
In this section we post those papers that have been just accepted in JGAA and are in the queue for being assigned a volume and an issue number. These papers have been accepted by one of the JGAA editors and their content will no longer be modified. However, the publication format of the papers may still be subject to minor changes.
Recently Published
Volume 16, no. 2, 2012
Editorial Board
Humboldt-Universität zu Berlin
Carleton University
Universität Konstanz
University of Rome Tre
University of Pisa
Pennsylvania State University
State University of New York at Buffalo
University of Sydney
Technion
Universität Tübingen
University of Arizona
Technischen Universität München
Roosevelt Academy Middelburg
State University of New York at Stony Brook
Universität Dortmund
National Technical University of Athens
University of Calgary
Universität Karlsruhe
University of Texas at Austin
Victoria University
Eindhoven University of Technology
Past Editors
University of Aarhus
AT&T Labs - Research
University of Sydney
University of California at Irvine
King's College
University of California, Irvine
University of Kitakyushu
University of Maryland
University of New Mexico
University of Texas at Dallas